Our History
i-GATE College a property to i-GATE Private Limited Company was inaugurated on the 8th January of the year 2004 with the blessings of the clergy and with the participation of professor Premadasa Udagama internationally renowned veteran educationist, education reformer and a former Secretary to the Ministry of Education. As the chief guest, Mr. E.L. Wijemanna or former secretary to the ministry of Education, and Professor Lal Perera the Dean of Faculty of Education at Colombo University as guests of honours and also with the participation of representatives from presidential secretariat , National Institute of Education, and Western Provincial Department of Education. Dr. K.A.D.C. Nanayakkara a former Director General of education as the founder Principal.
College started with the stage of Early Childhood Care and Development and Primary Grade one with intention of gradual development up to G.C.E. Advanced Level stage in the year of 2017 and then even for tertiary level in Sri Lanka universities and higher education institutions or affiliated foreign universities.
The college has developed up to present stage increasing student and teacher population, standard of teaching learning infrastructure and victories in co-curricular activities. We proceed in search of excellence.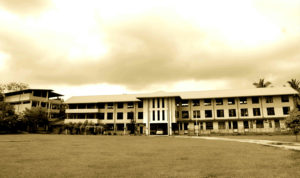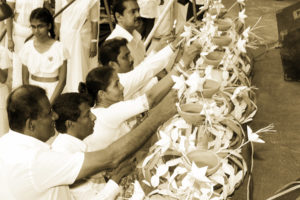 Our Profit & Satisfaction
Our Profit and Satisfaction
We believe in the field of education the real satisfaction of the provider, is not the financial profit. Benefits of the quality of the education received by the learner are overflowing and immeasurable. Our satisfaction is not financial profit, but the success of our students fulfilling expectations of parents.
Now we are at the door step of the knowledge society which is emerging where all people start learning irrespective of age, gender, job or education. Our College logo, vision, mission and beliefs declare our aim to promote self initiated successful learner who proceeds in search of excellence in future.
If our successful learner declares in the future, he succeeds of his self initiated effort under the guidance of the College, it will be our real profit and satisfaction.
Our Education Policy and Beliefs
Our Education Policy and Beliefs
Our education policy and beliefs are formulated, extracting the essence of philosophies of education presented by various types of philosophers and educationists from remote past up-to present and policies of international education organizations such as UNESCO and National Education Policy and procedure introduced and introducing by National Education Commission of Sri Lanka.
We believe that learning is a biological need of everybody similar to air, light, water, food, shelter and safety, and nobody can live without learning.

Learning is a natural ability of everybody and therefore every child is educable.Education is a right of every child without subjected to any discrimination.

Education should be learner centered, because major client or customer of education is the learner. It is essential to develop a self leaner, learning throughout the life as a member of a knowledge society or learning society.

The process of education should satisfy possible needs of the learner through provision of complete education opportunities for physical, intellectual, emotional, moral and social development.

Although our medium of instructions is English, we never forget we are Sri Lankans who should safeguard our National cultural heritages, values and identity.

The foundation of our College vision and mission is laid down by embedding above beliefs as solid stones for constructing the mansion of the future of our students to overcome obstacles and succeed in an unpredictable future life.
Our Vision and Mission
Our Vision
Competent future citizens with balanced personalities, who lead quality lives facing challenges of the emerging world
Our Mission
Providing of competence based education from ECCD up to G.C.E. Advanced level stages by following Sri Lankan national curriculum in the English medium for physical, intellectual, emotional & moral development of every student in order to acquire highest possible achievement level by adopting learner centered modern methodologies, under a Sri Lankan cultural environment.
Our Motto
Proceed In Search of Excellence
Meet Our Management
Dr. Sarath Kumarasiri
Chairman/Managing Director
Dr. Sarath Kumarasiri , the Chairman of the i-GATE Private Company Limited as an investor believes the education as the most important field of investment than other investments where social benefit surpasses financial benefits. He agrees with that investment in education as an investment in human capital which produces overflowing benefits and profits.
He is capable in harnessing the service of highest level educationist, with higher qualifications and experience for the development of the College. In provision of infrastructural need he is very keen about quality standard specifications laid down by the ministry of education and other relevant institutions. To complete the education, facilities for co-curricular activities such as athletics and sports in the spacious play ground, swimming in the College Swimming pools and in organizing education excursions and various functions on special days are introduced. Qualified teachers are recruited following the criteria laid down by the ministry of education. Teachers continuous professional development is highly concerned by providing suitable programmes with involvement of inside and outside educationists. A quantitative and qualitative development has acquired by the college from the beginning.
General Management
The general management is under the preview the chairman as the as the head of the institution, supported by a Executive Director a highly qualified experienced educationist who is specially in charge of academic affairs. Provision of all infrastructural needs, recruitments, all financial matters are handled by the chairman with non academic staff. All matters relating to school admissions and external affairs are the concern of the chairman.
Academic affairs are implemented by the Principal under the guidance of Executive Director. Preparation of annual academic plans including evaluation of students and teacher performance and maintenance of parent relationships are  a concern of the Principal supported by Deputy Principal and Sectional heads. Academic staff consist of educationally and professionally qualified teachers.
Heads of the School
Mrs. S.D. Samarasekara
Principal
Dear all, you are welcome to our website which is informative and interesting. Whether you are a first-time visitor or are already a member of our community, I persuade you to discover the i-GATE College website and find out the activities and programs happening in our college. Our Management Committee focuses on excellent academics, an authentic learning environment determined to motivate and empower and an unequaled infrastructure promoting holistic expansion and development on i- gations.
In my opinion, children are caterpillars who walk into the college where the world is new to them and as they grow up, they start to grow wings subsequently so that they can fly by being independent, smart beings who learn and discover the world on their own. Therefore, as a member of the management committee, I assure our students' path of compassionate, creativeness filled with desire to congregate new challenges to explore the world with our devoted, efficient and multidisciplinary team of teachers who have innovative contribution in fostering partnership with the school, home and society.
Moreover, all of the top achievers are life-long learners. Thus, the students who enroll in our college, we emphasize them to develop their skills, insights, and ideas which helps to grow and move toward excellence whereas our school motto accentuates "Proceed In Search of Excellence."
I feel privileged to be in the role of principal of i-GATE College and I would like to let you know that we are here to help each and every child to be successful!
Our Academic Staff
Our dedicated, well qualified and experienced staff ensures that our students have rich learning experiences through national curriculum in English medium. They work tremendously to reach perfection. Their attempts to strengthen the existing standards and bring significance to the school is highly commendable.